press releases
2015 PROGRAM FOR THE FENZI GROUP FINALIZED
February 2015
This year will be full of international appointments for the Fenzi Group, the leader in chemicals for flat glass secondary processing. It will be attending the topmost events in the world's most strategic marketplaces.

The first is China Glass on 20 - 23 May in Beijing, a leading event for the group which has been operating in Asia for more than 30 years. Here, its Chinese branch office -- Fenzi China Paints and Sealants Company Limited – will be showcasing the latest products for the Chinese market.

Next is Mir Stekla on 8-11 June in Moscow. This is a difficult area in economic-financial and logistic terms, and Fenzi will be presenting the products that have attracted the interest of local trade people, such as its warm edge products which are sold worldwide by the Glass Alliance network whose members are Fenzi, Alu-Pro and Rolltech. The quality of the technologies on display will allow local I.G. producers to satisfy the highest market demands.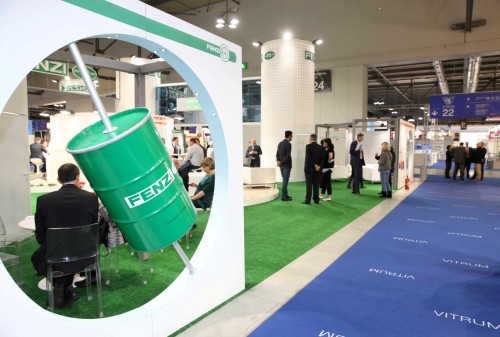 An eagerly-awaited appointment is GlassBuild America on 16-18 September in Atlanta. North America has always been an important market for Fenzi and an area where there is a great demand for its highly sought-after products. Things are looking good because the US economy is doing well with consolidated growth rates and growing investments. As usual, Fenzi North America will be one of the major exhibitors at the show.

Last on the list this year is one of the most important appointments for glass technologies -- Vitrum 2015 – on 6-9 October in Milan, and an unmissable opportunity to display cutting-edge products for the glass industry where the group will be one of the leading exhibitors. Vitrum 2015 will also be an opportunity to live the unique experience of Expo 2015 when the international spotlights will be on Milan.